I found the recipe of these delicious morsels on another blog and made them the other day. I couldn't stop eating them, they were so delicious!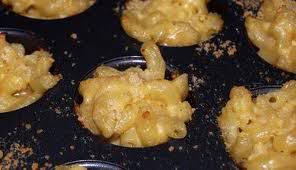 INGREDIENTS
2 cups uncooked elbow macaroni
1 tablespoon butter
1 egg, beaten
1 cup milk
1 1/2 cups shredded sharp Cheddar cheese (Keep 1/2 cup of this set aside for the bread crumb mixture)
1 1/2 cups shredded mozzarella cheese
1/2 cup seasoned dry bread crumbs
2 teaspoons olive oil
1/2 teaspoon salt
1/2 teaspoon black pepper
DIRECTIONS
Preheat the oven to 350 degrees F (175 degrees C). Grease a muffin tin with nonstick cooking spray. (this is really important. definitely err on the side of overgreasing the pan, as they tend to stick to it) In a small bowl, stir together the bread crumbs, olive oil and reserved cheese; set aside.
Bring a large pot of lightly salted water to a boil. Add the macaroni and cook for about 8 minutes, it should still be a little bit firm. Remove from the heat, drain and return to the pan; stir in the butter and egg until pasta is evenly coated. Reserve 1/2 cup of sharp Cheddar cheese and stir the remaining Cheddar cheese, milk and mozzarella cheese, salt and pepper into the pasta. (Taste it before you spoon into the muffin tins to make sure that it's seasoned properly. I think that I used a little more salt)
Spoon into the prepared muffin tin. Sprinkle the reserved cheese and bread crumb mixture over the tops. (I used mini muffin tins b/c I liked the shape better)
Bake for 30 minutes in the preheated oven, or until the topping is nicely browned. Allow the muffins to cool for a few minutes before removing from the pan. This will allow the cheese to set and they will hold their muffin shape.
The refrigerate and I've heard that they freeze well. To reheat, I just placed on a cookie sheet and warmed them up in a 350 degree oven.